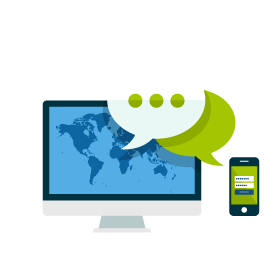 Social Media Marketing
An effective social media marketing strategy can help your business thrive by creating an online social presence that engages potential new customers and nurtures existing customers.
We're a full service social media marketing agency. Or, SMM agency, as it is sometimes referred. Our social media experts can help you establish realistic business objectives, identify your target market, create engaging and share-worthy content, and ultimately integrate your social media strategy with all other aspects of your online presence.
We design social media marketing strategies specifically attuned for your brand story and message. More importantly, your audience. We offer several levels of engagement of managed social media programs, content planning and curation, blog promotion, and video distribution among other services that aim to attract new customers and maintain existing customers. While increasing engagement, this also increases your profitability with your online marketing.

Our social media services give you the ability to connect and share info leading to an increase of your brand's, products or services awareness. Or, a better understanding of your brand story. Social Media advertising results are reflected in the number of re-tweets, comments, shares, likes and views. Social media marketing (SMM) encourages user-generated content from within the most popular social media platforms such as Facebook, Twitter, Instagram, Google+, LinkedIn, and Pinterest.
Brand Monitoring
Rainmaker Digital Communications can help you improve and track the reputation of your business and find out how people perceive your brand.
Social Media Engagement

Facebook, Instagram, Snapchat, Twitter, or Pinterest content can improve or increase your traffic in a relatively short period of time. Our social media experts can help you identify emerging social media trends as well as determine the most suitable type of content and platform to best position your brand.
Social Media Management
Our turnkey services include a team of social media experts that can consistently manage your accounts on your behalf and engage with your audience.
Setup & Custom Profile Design
We review, develop, and customize social media profiles. This allows us to engage with quality content and design graphics that resonate your brand story to your audience.
Tell us about your project and start the SMM transformation
We can help you unlock the full potential of your social media marketing, SEO, and online advertising!